Tata Communications fibre network has enabled many of these innovations in recent years with developments such as the Live Zoetrope 360 cameras. Fans can get a 360 view of the action during all track sessions from the back of key bikes. Dorna could only do this once partnered with Tata Communications as the increased bandwidth was the last piece of the puzzle.
On-board cameras have come a long way since MotoGP was the first motorsport in the world to introduce them, by attaching a camera weighing a whopping 1.3k to the side of Randy Mamola's Honda in Assen in 1985.

Today, a significantly more advanced camera, weighing about the same as a pencil, is attached to each motorcycle, offering viewers a rider's view in 4K Ultra High Definition. The onboard footage is now so good it's even used among teams
alongside existing telemetry to analyse and improve performance of the bikes and the riders.
With more cameras on more bikes combined with the power and flexibility of the Tata Communications network,
Dorna can offer both multiple customised feeds. This gives fans a choice in what they want to see as well as providing great feedback for Dorna through the viewing data. This in turn helps to guide future production and content innovation.
These new and innovative formats, enabled by Tata Communications, open up new revenue opportunities for Dorma to sell more content. The ability to deliver smaller content packages means that Dorna can monetise new
broadcasters and new routes to market, capturing the long tail of fans that were previously unavailable with unilateral content. This micro-content is particularly appealing for non-core fans who just want a taster or highlights of the action. Delivered through social media and other channels, this acts as a hook for new core fans as well as a number providing new revenue opportunities.
In Tata Communications, Dorna has a partner who is not only infused with the spirt of innovation but one that is also trusted to win.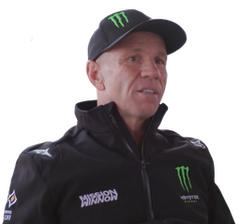 "It wasn't like I was sitting on the bike going 'I wonder how the people will be perceiving this' because we didn't know how much we would get'"
Randy Mamola, MotoGP Legend